Bridging Art Across Cultures

The East West Bank Art Program was created to bring arts and cultures across the Pacific and to celebrate the ongoing cultural exchange. The East West Bank Collection features works by some of the most renowned contemporary Chinese artists. Through their continuous innovation and melding of cultures into dynamic artworks, contemporary Chinese artists demonstrate how we can all reach further and forge new connections through arts and culture.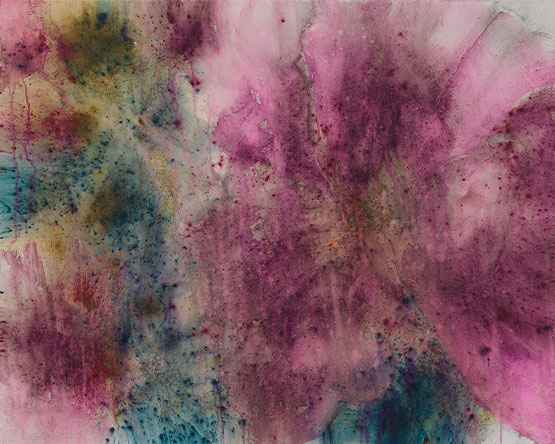 Sweet Briar
2018
GUNPOWDER ON CANVAS
122 X 152.5 CM

ON DISPLAY AT:
EAST WEST BANK (CHINA) LTD. HEADQUARTERS IN SHANGHAI
Cai Guo-Qiang
(b. 1957, Quanzhou, Fujian Province)
Born in 1957, Cai Guo-Qiang was trained in stage design at the Shanghai Theatre Academy. His work has developed to encompass different mediums including drawing, installation, video, and performance. He is well known for his gunpowder drawings and site-specific, large-scale explosion projects that investigate the interchange between the viewer and the larger realm. In 2018, to celebrate the opening of his solo exhibition Flora Commedia: Cai Guo-Qiang at the Uffizi in Florence, Italy, Cai held a daytime explosion event on Piazzale Michelangelo, overlooking the city of Florence where 50,000 customized fireworks lit up the sky resembling thousands of flowers. "Sweet Briar" was part of the Flora Commedia exhibition and was exhibited in a gallery where the majority of paintings were flowers – a simple subject that allowed Cai to combine new and old, east and west methods in his application of European metal point drawing techniques with ignited gunpowder and incense sticks to sketch directly on the canvas.

In addition to Flora Commedia, Cai's many solo exhibitions and projects at major museums including the Prado, Madrid, Spain; Tate Modern, London; Faurschou Foundation, Copenhagen, Denmark; The Museum of Contemporary Art, Los Angeles; The Metropolitan Museum of Art, New York; Arab Museum of Modern Art in Doha, Qatar; and The Solomon R. Guggenheim Museum, New York and Guggenheim Museum, Bilbao.
Artificial Rock No. 154
2015
STAINLESS STEEL
114 X 45.7 X 35.8 CM

ON DISPLAY AT:
EAST WEST BANK (CHINA) LTD. HEADQUARTERS IN SHANGHAI
Zhan Wang
(b. 1962, Beijing)
Zhan Wang was born in 1962 and studied at the Beijing Industrial Arts College and later in the Central Academy of Fine Arts. In the 1990's he broke away from the Socialist Realist tradition to explore the juxtaposition of old and new in a major series of sculptures titled, Artificial Rock or Jia shan shi. This series has garnered international acclaim and has been collected by institutions around the world. Zhan's artificial rocks are based on the traditional Chinese scholar's rocks, which were collected by the literati and placed in courtyards or study areas for private contemplation. Fusing the shapes of traditional Chinese scholar's rocks with the industrial medium of stainless steel, Zhan manages to introduce bold changes to Chinese sculpture and to bring abstraction and conceptualism into the medium.

Zhan Wang's work has been widely exhibited internationally, including the Asian Art Museum, San Francisco, CA; Milwaukee Art Museum, WI; Museum of Fine Arts, Boston, MA; Albright-Knox Gallery, Buffalo, NY; Kunstmuseum, Bern, Switzerland; Fukuoka Asian Art Museum, Japan; and Ullens Center for Contemporary Art, Beijing, China. Zhan Wang's artworks continue to be collected and favored by many important museums and private institutions.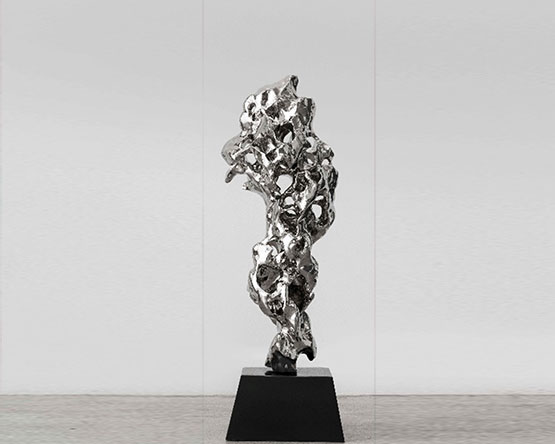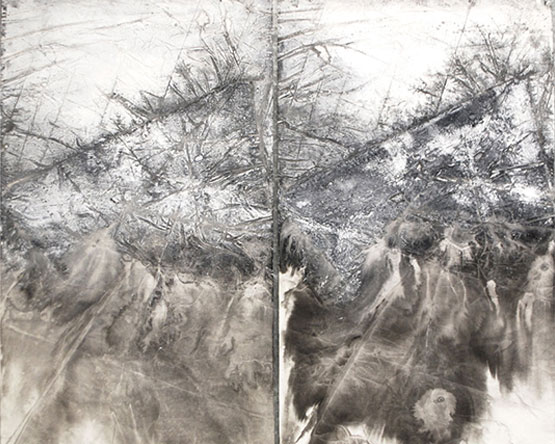 Light Measurement
2018
INK AND ACRYLIC ON XUAN PAPER
THE EAST WEST BANK COLLECTION
66 X 70 3/4 IN

ON DISPLAY AT:
EAST WEST BANK (CHINA) LTD. SHENZHEN BRANCH
Zheng Chongbin
(b. 1961, Shanghai)
Born in Shanghai, Zheng Chongbin studied at the Zhejiang Academy of Fine Arts in China before traveling to the U.S. where he received an MFA from the San Francisco Art Institute in 1991. Like many other contemporary Chinese artists, he is bi-cultural and spends his time between China and the U.S. Influenced by both western and eastern cultures, Zheng uses ink wash art as the artistic language in his works and keeps exploring the potential of ink as a medium. He studied figurative painting at first and later focused on conceptual art, abstract expressionism, and the post-modern deconstruction of light and space.

His work in the ink medium embodies a concept in which matter both imposes on its own form and also produces a metaphysical dimension. Zheng says, "my intention is to investigate the logic of the ink medium and its perceptual characteristics, the alternation between transcendence and the materiality of the work. The medium retains the core values of its history, while emphasizing contemporary procedures, especially in regard to material content, which it concerns about the perception of mental volumes in relation to physical space. It forms a shift toward objectification, toward an experience of architectonics and frontality."